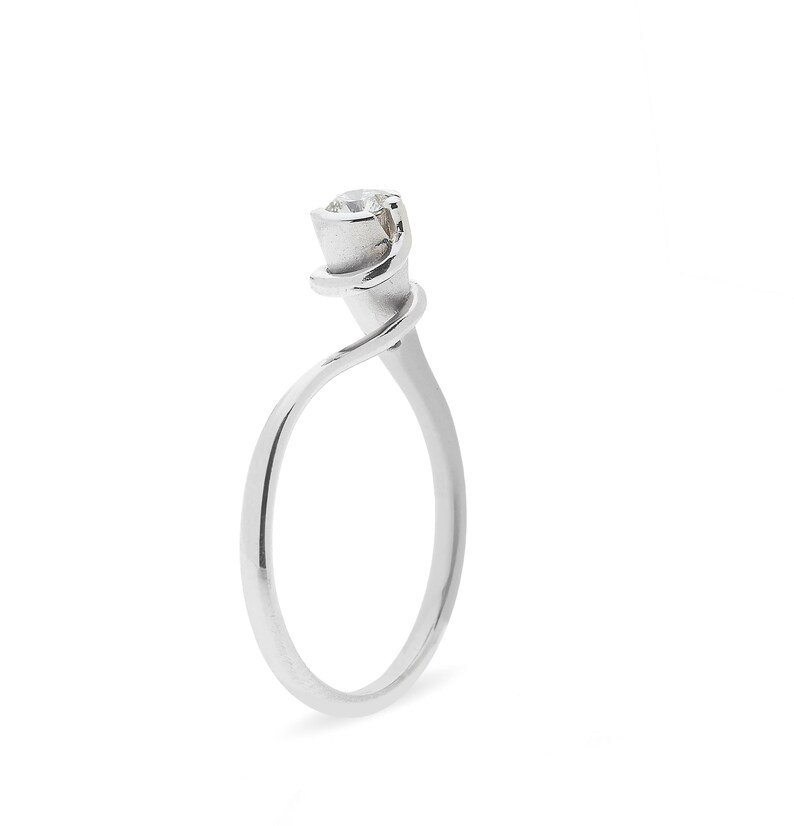 Unique ring with an exclusive design that simulates a burning torch. Very comfortable to wear
Available in yellow, white and pink gold 18k and in different sizes.
Can be worn as engagement ring, birthstone ring, or just for special occasions.
ITEM INFORMATION:
Metal: 18K White Gold
Ring Size: 6 USA = EUA 12
Symmetry: Excellent
Polish: Very Good
Rhodium finish: Yes
Average width: 2 mm Average Height: 1,5 m
Gemstone: Color: G . Purity: VVS (High Quality) Natural, untreated diamond
Carat Weight: 0,15
NisJewels is characterized by an accurate quality in each of their jewels, taking great attention to any detail and handling with care from the beginning of the creating process until the finishing touch. We work with attractive and unique designs to catch the attention of those who appreciate exclusiveness. We are also recognized for our innovative and precise techniques working digitally (3D), as well as for our handmade treatment of the jewel. As we meet the requirements of having knowledge of both techniques and ways of working the jewel. Besides, we always work with high-quality certified metals and diamonds.
NisJewels comes from the fourth jewel-makers generation, with more than 50 years of demonstrable experience and with a workshop and shop in the area of Barcelona.
Don't hesitate to contact me for any questions. E-mail at nisjewels [!at] gmail.com or by phone at (034) 666643537
CONSIDERATIONS TO TAKE INTO ACCOUNT:
– There is no inconvenience in adjusting each ring to the personal customer's measures.
– Customers feel free to decide if they prefer the ring in yellow, white or pink gold of 18k. All forms and options are available.
– The ring will be made within 10-15 business days from the time of payment (excluding Fridays and Saturdays) and will be sent by
insured express shipping.
– Every item will be well packed in a beautiful jewelry box to match the beautiful item inside.
Source link