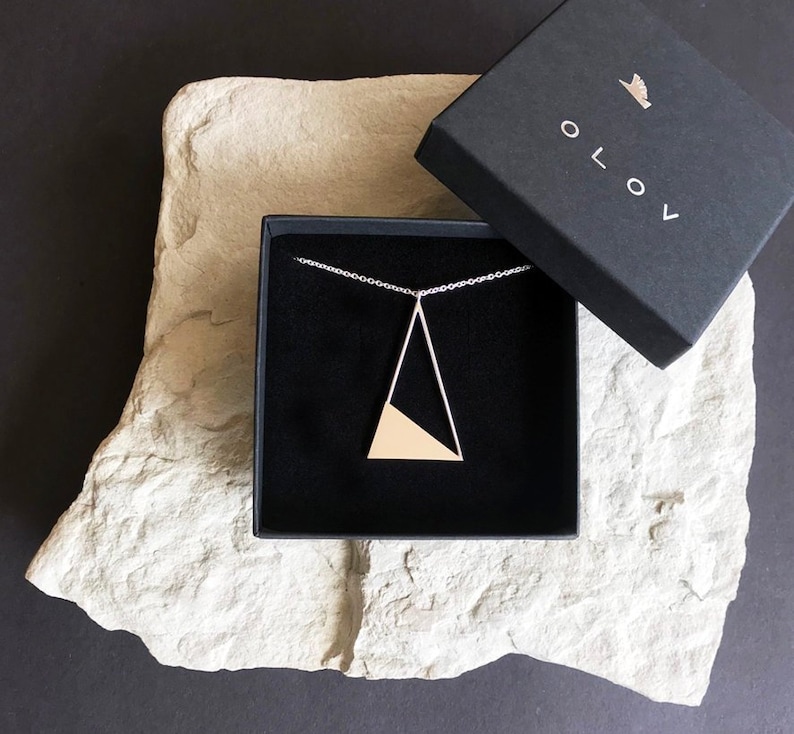 BERIT
'vitality'
OLOV is minimal sterling silver jewellery, handmade with love 🙂
All designs are crafted using traditional silversmithing techniques and 100% recycled, Australian made sterling silver.
Inspired by my Scandinavian heritage, designs have been given powerful Nordic names.
The pendant shown in the photo has an 80cm length chain.
BERIT is a triangle formed from round wire that has a solid triangle within it. It has a shiny surface finish.
Dimensions:
•Main design – Large triangle width 2.7cm, length 4.2cm (1.2mm thick sterling silver round wire), small triangle 2.7cm width, length 1.5cm (0.5mm thick sterling silver sheet)
•Jump rings – 5mm diameter (0.9mm sterling silver round wire)
•Chain – Close cable chain (sterling silver)
The chain:
• Is available in 10 lengths (45cm, 50cm, 55cm, 60cm, 65cm, 70cm, 75cm, 80cm, 85cm & 90cm). If a custom length of chain is desired please choose the closest option in the drop down menu and leave a note with your order.
• 45cm – 65cm chain lengths have clasps.
• 70cm – 90cm chain lengths are soldered into a continuous loop (no clasp). To be worn the necklace passes over the top of the head.
All orders:
• Include; card with design name and meaning (Old Norse), a silver polishing cloth, pyrite stone (to protect your order on its way from me to you) and a photo of Mother Nature from my family summer house in Sweden (photo varies with each order).
• Presented in branded packaging, bubble wrapped for postage and sent in a protective cardboard box.
Complimentary branded gift bag (with ribbon) is available upon request. Please mark your order as a gift, if you would like it gift packaged.
Thank you for visiting my page!
For more OLOV designs check out www.olovdesigns.etsy.com
Love,
Ingela
Source link