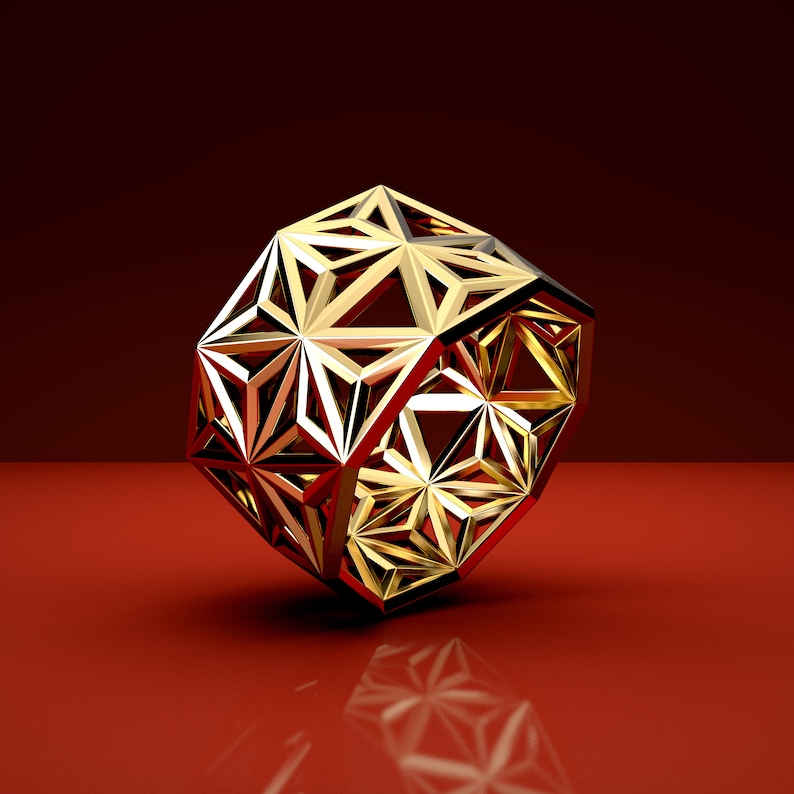 A ring with a simple form and Kumiko pattern for all times and all places.
Have a little Japanese design in your everyday life.
"Kumiko" is a craft that has been refined over many years since ancient times in Japan. An algorithm has been used to design this geometrical pattern unique to Japan, and a top of the line 3D printer and conventional casting techniques have been combined to manufacture these rings.
Kumiko patterns contain prayers and meanings.
Triangles signify charms against evil spirits, and an Asanoha pattern signifies healthy growth.
These have been earnestly designed so they can also be worn as talismans.
>> MATERIAL
18K gold plated brass
It is made out of 18k plated brass. The 18k is said to be a color suited for anyone.
You can wear it in a variety of occasions such as for parties or on special occasions,
and even for daily use as the color is bright and vibrant.
It damages easily, so please use a soft cloth to wipe away any stains when cleaning the product.
>> SIZE
US-5 / JP-9 : diameter 15.7mm circumference 49.3mm
US-6 / JP-11 : diameter 16.5mm circumference 51.8mm
US-7 / JP-13 : diameter 17.3mm circumference 54.3mm
US-8 / JP-15 : diameter 18.1mm circumference 56.8mm
US-9 / JP-18 : diameter 18.9mm circumference 59.3mm
The size worn in the photo is US9.
>> SHIPMENT
When you purchase this product, the order will be made at a factory in either New York or the Netherlands, depending on where you live, before being delivered directly to your door.
We aim to reduce carbon dioxide emissions and reduce the use of resources such as packing materials by delivering our products directly from our factory to our customers, using the shortest route possible. In order to contribute to reducing resource consumption, we do not make original packages. Although we deliver our products in simple packaging, we deliver them with all our heart.
We do not offer gift wrapping services.
>> SHOP TOP PAGE
https://www.etsy.com/jp/shop/FragmentProducts
Source link